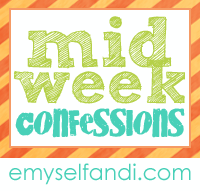 I actually kind of like doing dishes. Don't tell Josh. What I hate is putting away clean dishes. I swear, if he would just keep the drying rack empty, I would happily wash dishes all day long.
I recently switched my day off (I work four 10-hour days) from Friday to Wednesday. While I have dreaded giving up my long weekends, I think I might like having a break in the middle of the week. I switched it so I could attend church on Wednesday nights, which I'm very excited about!
Seeing as how I am off today, I have been super lazy. Monday I was off for MLK and was productive. Today, I slept until 9, and have yet to do anything remotely productive.
I saw Mark Wahlberg's new movie Contraband with a friend on Sunday, not because we had any interest in the storyline, but because Marky Mark was in it. It was a bit way too intense for me. I was on the edge of my seat the entire time and my heart was racing!
I keep swearing I 'm going to start eating a healthy breakfast before work, and then I don't. I usually don't eat anything. I know this is horrible for me, but the thought of food in the morning makes me nauseous. Sometimes I can choke down a granola bar but that's about it.
Now, because it is cold and rainy and that's as good of an excuse as any, I am going to turn on the TV, watch trashy reality shows, and take a nap.