Happy Midweek!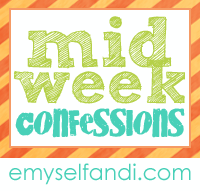 I am really stressing out over a situation at work that may leave me without a job. I am trying to trust that God has a plan and has control...but it's oh so hard. I am so frustrated! I have been listening to this song (and reading the psalm it's based on) and it has been helping.
I made banana pudding for the Super Bowl. Confession: I don't like bananas. I just like the "pudding" part (which is why I make Paula Deen's Chessman Cookie version--no banana flavored pudding!)
Nothing annoys me more than when I am somewhere with nothing to do and can't catch up on my Words with Friends games because I don't have a good signal. Ugh! I feel like I'm wasting precious time not playing!
I have two shameless plugs!

One: One of my favorite blogs, Marriage Confessions, has been nominated for two Bloggie Awards. Go check out their blog and vote for them!
Two: If you live in the Northeast Florida area, please check out my husband's website and keep him in mind if you ever need a home inspector! He is fantastic (and I'm not all that biased.)

I am posting this Thursday because I started it last night and then Josh and I got into a fight passionate discussion about my job and how I'm handling the stress. We both handle stress so differently and sometimes have a hard time seeing the other person's point of view.
Enjoy the rest of your week!