Love me some Midweek Confessions! If you haven't yet, you should really check out some of the other posts linked up. It's both therapeutic and hysterical!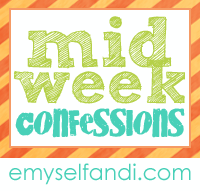 I am a full fledged adult, and I still have yet to master the art of using an umbrella. It was pouring last weekend when I left the grocery store, and I luckily had my handy-dandy umbrella in my purse. I made it to the car dry, but by the time I got into the car, I was soaking wet and so was my car door. How the heck does that work?
I decided this week what the most annoying sound in the world is my dogs licking themselves. Ick! Our little one likes to lay in our bed and lick her paws in the middle of the night and it drives me insane. Good thing she is so cute to make up for the annoyingness:
My aunt's family owns a beach house in Old Orchard Beach, Maine; for the past 15 years we have been have family reunions there. Josh and I haven't been since 2009 but we are going this year! It's not until the end of July/begninng of August. My confession is that I am not sure I can wait that long. Here's what I've got to look forward to:
As soon as I get this posted I am heading to the grocery store. I finally figured out when our local Winn Dixie puts their meats on clearance and I have scored some really great deals. I am ridiculously excited to see what I will find today!
Happy Wednesday, Friends!